Mercedes-Benz and BMW, two German automotive giants, have revealed their latest electric concept cars at the IAA auto show in Munich. These new concept vehicles are part of their ambitious efforts to compete with Tesla in the premium electric vehicle market.
Mercedes-Benz Concept CLA Class:
The Mercedes-Benz Concept CLA Class is built on the Mercedes‑Benz Modular Architecture (MMA), a brand-new platform designed specifically for electric cars.
This platform will serve as the foundation for a total of four new models, including a four-door coupé, an estate, and two sports utility vehicles.
Mercedes claims that this electric car will offer an impressive range of 750 kilometers (466 miles) on a single charge. Moreover, it boasts a quick-charging capability, allowing the battery to be charged sufficiently for a 400-kilometer drive in just 15 minutes.
The automaker is placing significant emphasis on the interior and user experience. They are developing their own operating system called MB.OS, designed to power various features such as the large dashboard screen and voice assistant.
MB.OS will also enable integration with third-party apps, making it easier for users to connect their favorite music or video streaming apps to the vehicle.
Mercedes-Benz is striving to demonstrate its commitment to catching up with Tesla in terms of software development, as traditional automakers have been perceived as lagging behind in this area.
BMW Vision Neue Klasse:
BMW's response to Tesla comes in the form of the BMW Vision Neue Klasse, which is also based on an entirely new architecture designed for BMW's future electric vehicles.
Production of electric vehicles built on the Neue Klasse architecture is scheduled to begin in 2025.
This concept vehicle features a glass roof and incorporates classic design elements that are characteristic of the BMW brand.

One notable feature is the "Panoramic Vision," a heads-up display that projects information onto the windshield at the driver's eyeline. BMW intends to debut this feature in the Neue Klasse.
BMW hasn't provided detailed information regarding the range and charging capabilities of the Neue Klasse models. However, they have mentioned that the next generation of their technology will enhance charging speed by up to 30% and increase the vehicles' range by up to 30%.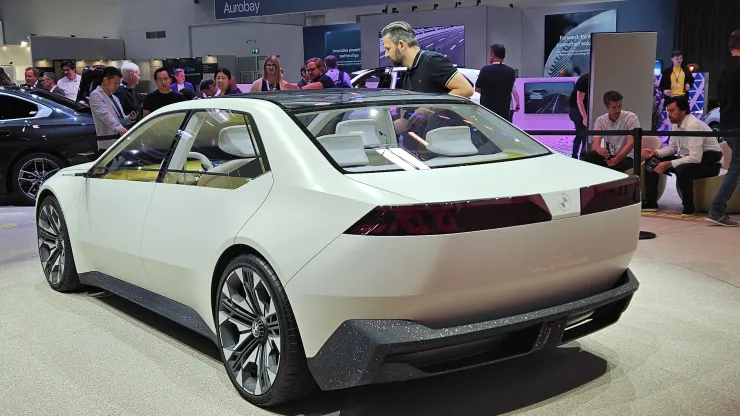 Both Mercedes-Benz and BMW are making significant strides in electric mobility, reflecting the broader industry shift towards electric vehicles. These concept cars represent their commitment to innovation and competition in the rapidly growing electric vehicle market. As they continue to refine and develop their electric offerings, consumers can look forward to more choices and innovations in the premium electric car segment.