Over the weekend, Joe Jonas and Sophie Turner made headlines as they presented a united front amidst swirling rumors of an impending divorce. The mystery surrounding Joe's wedding ring, which has appeared and disappeared at various times, added to the intrigue.
On Sunday, Joe, 34, was seen wearing his wedding band during a Jonas Brothers concert in Texas, leaving fans puzzled about the status of his marriage. Reports suggest that the singer is preparing to file for divorce due to "serious problems" in his relationship with Sophie, 27.
However, during the concert, Joe made no mention of any marital issues, and observant fans claim to have spotted Sophie in the crowd. While Joe rocked out on stage alongside his brothers Nick, 30, and Kevin, 35, at The Moody Center in Austin, one fan excitedly shared, "BREAKING UPDATE: not only is Joe wearing his ring tonight in AUSTIN BUT SOPHIE IS THERE I REPEAT SOPHIE IS IN THE BUILDING."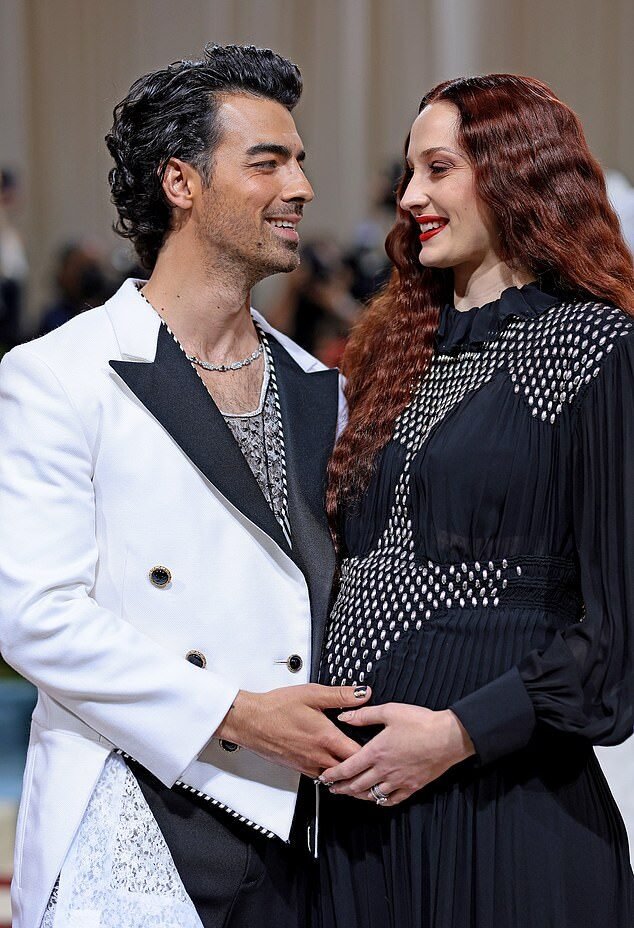 Sophie's presence at the concert could be attributed to her support for her husband or her responsibility as a mother. Sources have revealed that Joe has taken on the primary parenting duties for their two children in recent months. The couple shares two daughters, three-year-old Willa and a 14-month-old whose name has not been publicly disclosed. Joe has been reportedly caring for their children "pretty much all of the time" while Sophie spent time in the UK filming an ITV drama based on the notorious British jewel thief Joan Hannington.
Despite the lack of public appearances together in recent months, Joe and Sophie have shared few details about their family life. Sophie kept her pregnancy out of the public eye until after the birth of Willa, and the couple has been equally discreet about their younger daughter.
Details regarding the reasons behind their relationship difficulties remain scarce. Their last public appearance together was reportedly in April when they were spotted arriving at an afterparty in London, where Joe was DJing.
Earlier this year, Joe's frequent public appearances without his wedding ring had already sparked curiosity among fans. On Saturday, he once again baffled fans by sporting the wedding band in a photo with his brothers, enjoying the Texas sunset. In the post, he didn't directly address the relationship rumors but wished fans a happy Labor Day weekend and expressed excitement about their ongoing tour.
Joe and Sophie's love story began in 2016 when they were introduced by mutual friends, leading to an engagement in 2017. They tied the knot two years later with two ceremonies—a private affair in Las Vegas followed by a grand wedding in Paris.
Despite their picture-perfect public image, sources suggest that trouble has been brewing behind the scenes for months. While Joe is on tour across the country, he has reportedly been the primary caregiver for both their daughters.

The couple recently sold their Miami mansion, which they had purchased just last year, adding to the speculation surrounding their relationship. As fans and the public wait for more information, the status of Joe Jonas and Sophie Turner's marriage remains a topic of curiosity and intrigue.