Actress Florence Pugh turned heads and added a touch of boldness to what could have been a traditional bridal look during her appearance at Elle's 2023 Style Awards in London.
The "Don't Worry Darling" star, known for her daring fashion choices, made a grand entrance at the event, donning an ivory mesh halterneck gown designed by Harris Reed. The gown featured intricate floral lace appliqués throughout, a high neckline, an open back, and a lace-trimmed train, making it a statement piece that stole the spotlight. Pugh opted for minimal accessories, wearing pearl drop earrings and a gold septum ring, allowing the stunning dress to take center stage.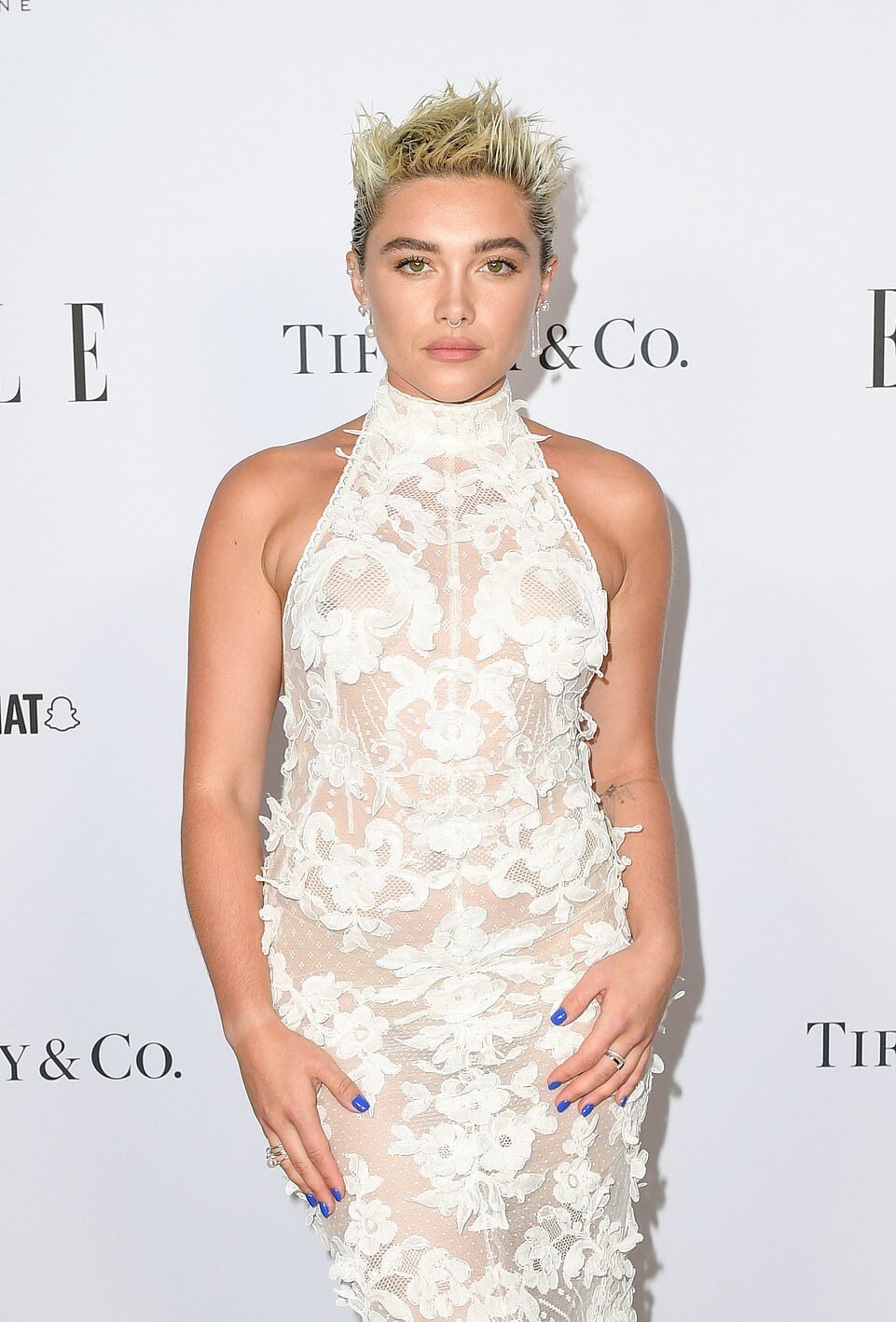 In terms of her hairstyle, Pugh sported her signature beach-blonde pixie cut with dark roots, which was casually slicked up and back, giving off a relaxed yet chic vibe, reminiscent of Miu Miu models' just-got-out-of-bed hairdo on the Fall 2023 runway. Adding a touch of uniqueness to her ensemble, Pugh showcased a midnight-blue manicure as her "something blue."
Florence Pugh is no stranger to red carpet appearances that push the boundaries of fashion, often embracing transparent and see-through clothing. Her affinity for these daring looks gained attention when she sat front row at Valentino's Haute Couture Fall/Winter 2023 show, wearing a now-iconic hot-pink see-through gown in July.
Reflecting on her bold fashion choices, Pugh addressed the controversy surrounding her transparent attire in an interview for Harper's Bazaar's September 2022 cover story. She expressed confidence in her own skin, stating, "I was comfortable with my small breasts," and highlighted how her self-assuredness sometimes stirred negative reactions from others. She added, "It was just alarming, how perturbed they were. They were so angry that I was confident, and they wanted to let me know that they would never wank over me. Well, don't." Florence Pugh continues to make fashion statements and challenge norms on the red carpet, cementing her status as a style icon.