Ukraine's President Volodymyr Zelensky has strongly condemned a devastating explosion in the "peaceful" city of Kostyantynivka, which he described as a "deliberate" attack. The tragic incident unfolded on a bustling market street in the heart of the city, an unusual occurrence for a place typically known for its tranquility.
The powerful blast, which occurred during daylight hours, resulted in the loss of at least 17 lives, including that of a child. Kostyantynivka, situated in Ukraine's eastern Donetsk region, is in close proximity to the front line, where tensions have simmered for an extended period.
Social media videos captured the harrowing moment when a bright orange explosion erupted at the far end of a street, where shoppers and pedestrians were going about their daily routines. As of now, Russia has not issued a statement regarding the attack.
President Zelensky expressed his outrage, placing the blame squarely on Moscow. He lamented that those killed were "people who did nothing wrong," and he somberly warned that the death toll could potentially rise.
Dealing with Russia, according to Zelensky, entails confronting the audacity of evil. The explosion left approximately 32 individuals injured, with reports indicating that a market, shops, and a pharmacy were among the sites struck.
Ukraine's Prime Minister, Denys Shmyhal, reassured the city's residents, stating, "All services are working," and added, "The fire is contained." Later in the day, around 18:00 local time (16:00 BST), Ukraine's Interior Minister Ihor Klimenko announced that the search and rescue operation had been successfully completed.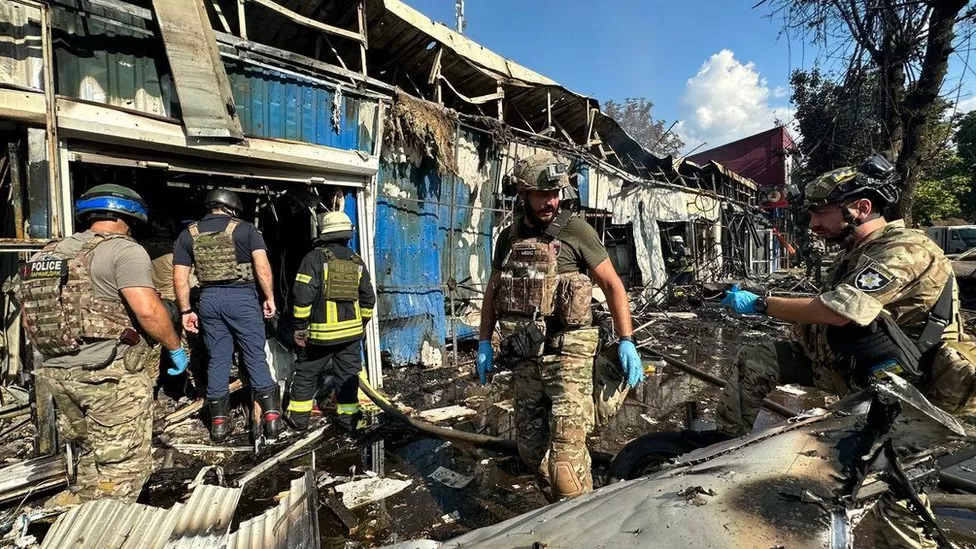 Disturbing footage and images circulated online, depicting both the moment of the explosion and its grim aftermath. This incident marks one of the worst attacks of its kind in several months and occurred on a bustling street filled with shoppers and café-goers.
Ukraine's prosecutor-general has initiated an investigation into the attack, citing "criminal proceedings for violation of the laws and customs of war." A statement from the prosecutor-general's office stated, "Prosecutors are taking all possible and appropriate measures to record war crimes committed by the Russian Federation."
Russian officials have not claimed responsibility for the attack and have previously denied targeting civilians during their offensive. Kostyantynivka, due to its proximity to the conflict zone, has experienced multiple attacks this year:
On April 2, six civilians lost their lives, with missiles and rockets causing extensive damage to 16 apartment buildings and a nursery school.
On May 13, two individuals, including a 15-year-old girl, were killed in an attack involving Smerch rockets, which struck high-rise buildings, houses, a petrol station, a pharmacy, and shops.
On July 24, two children were killed in an attack that Ukraine alleges involved the use of cluster munitions by Russian officials.
The city is approximately 17 miles (27 km) from Bakhmut, another area marked by intense fighting. Minister Klimenko shared images on Telegram, depicting rescue workers sifting through the rubble.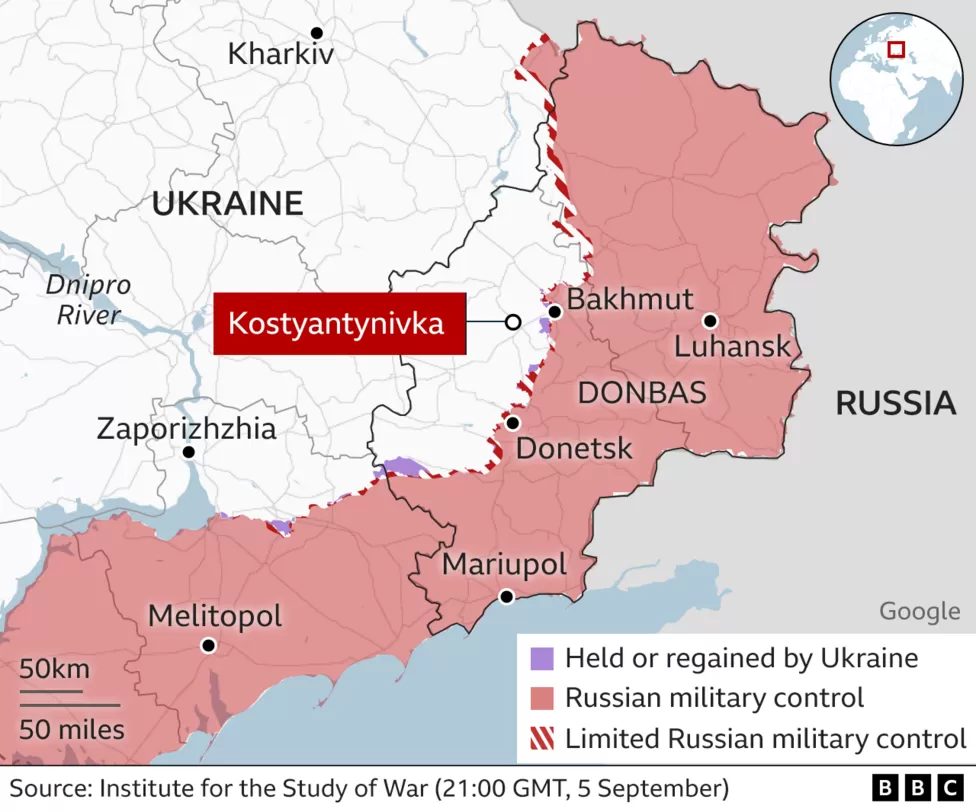 The city of Donetsk has been under the control of Russia's proxy authorities since 2014, and they have repeatedly accused Ukrainian forces of targeting it since the conflict with Russia commenced last February.
The attack in Kostyantynivka coincided with a visit by U.S. Secretary of State Antony Blinken to Ukraine's capital, Kyiv, where he held discussions with Ukraine's Foreign Affairs Minister Dmytro Kuleba. In the hours leading up to his arrival, sirens sounded across the country, and Kyiv's air defense system intercepted missiles aimed at the capital.
It was anticipated that Mr. Blinken would announce a new U.S. aid package for Ukraine during his visit, providing much-needed support for the war-torn nation as it faces ongoing challenges.