Beyoncé, the iconic singer and performer, dazzled the audience at her first show at the SoFi Stadium in Inglewood on Friday night. This performance was part of her Renaissance World Tour, which is currently captivating audiences across North America.
The SoFi Stadium, a massive venue that can seat a staggering 70,240 people, had recently hosted Taylor Swift's Eras Tour, and now it was Beyoncé's turn to take the stage.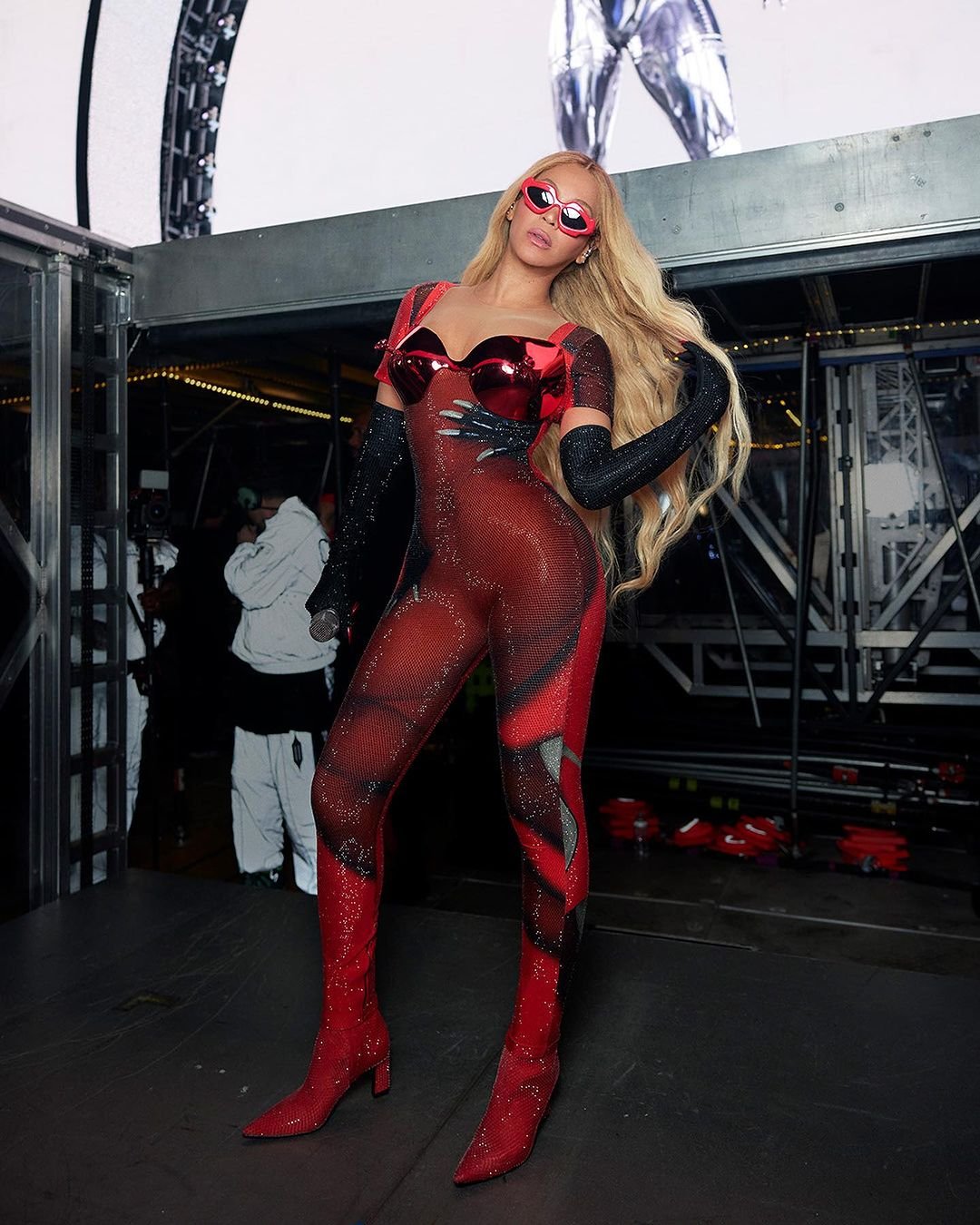 After her mesmerizing performance, Beyoncé took to Instagram and shared a series of photos showcasing her dazzling outfits. One of her looks featured a gleaming metallic headpiece and a flesh-revealing design that highlighted her stunning figure.
In another ensemble, she wore a perfectly fitted blood-red outfit that accentuated her dancer's body as she commanded the stage. Beyoncé's Instagram update gave her fans a glimpse of the sensational showmanship she brings to her concerts, including bursts of flame, flying sparks, and a team of backup dancers.
View this post on Instagram
Beyoncé kicked off her Renaissance World Tour in May, starting with three shows at Los Angeles' largest venue. Fans and celebrities alike attended the kickoff show and shared their experiences on social media.
Jordyn Woods, a 25-year-old performer, shared photos of her outfit for the show on her Instagram account. She wore a sparkling silver dress with see-through elements, paired with silver high-heeled shoes and sparkling jewelry. Her caption playfully referred to herself as an "alien superstar," likely a nod to one of Beyoncé's songs from her latest album, Renaissance.
Woods also posted videos from the star-studded event on her Instagram Story.
Keke Palmer, known for her roles in film and television, shared a video on her Instagram before attending the concert. She sported partially silver hair, blowing a kiss to the camera while wearing a body-hugging black dress and accessorizing with a silver choker and hoop earrings. Palmer and her friends danced along to Beyoncé's music during the concert, capturing the joyful atmosphere on her Instagram Story.
View this post on Instagram

Sofia Vergara looked stunning in a partially sheer dress, revealing her toned arms as she posed for a photo at the concert. The lower part of her dress was covered in small black sequins that shimmered while she watched Beyoncé perform.
Elle Fanning chose an all-black outfit with slightly wide-legged pants and a large jacket draped over her left shoulder. Her golden blonde hair was elegantly tied back in a bun. In her post's caption, she paid homage to the Queen herself, writing, "bow down to the Queen" during the performance.
The Renaissance World Tour began in May to promote Beyoncé's album of the same name, released last summer. Renaissance, the first part of a planned trilogy, marked Beyoncé's return to the music scene since her groundbreaking Lemonade album in 2016.
View this post on Instagram
Beyoncé's tour journeyed through various European cities, starting in Stockholm and making stops in London, Barcelona, Marseille, Amsterdam, and Warsaw, among others. After performing in Toronto, she returned to the United States, taking her show to cities like Philadelphia, Kansas City, Nashville, Las Vegas, and Los Angeles.
The Renaissance World Tour will conclude on September 27 with a single performance at the iconic Superdome in New Orleans, marking the grand finale of this spectacular musical journey.